---
Hello, readers! As the holiday season approaches, there's a magical transformation that takes place in homes across Loudoun County, VA. The air becomes infused with warmth, and the soft glow of lights brings joy to every corner. At The Blind, Shade & Shutter Co., we believe that your windows play a pivotal role in creating this enchanting atmosphere. Join us as we explore a world of holiday window decor ideas that will turn your home into a festive haven.
1. Twinkling Elegance with String Lights:
Let's start with the timeless classic – string lights. These aren't just for the tree; they can add a touch of sparkle to your windows too. We recommend draping them along the edges or weaving them through your window treatments. The soft, twinkling lights will create a cozy ambiance that's perfect for those chilly winter nights.
2. Snowflakes on Display:
Bring the charm of a winter wonderland to your windows with delicate snowflake decorations. You can find these in various materials and sizes. Hang them at different lengths for a dynamic display or scatter them across your window pane for a whimsical touch. Snowflakes also work well with different window treatments, from curtains to blinds.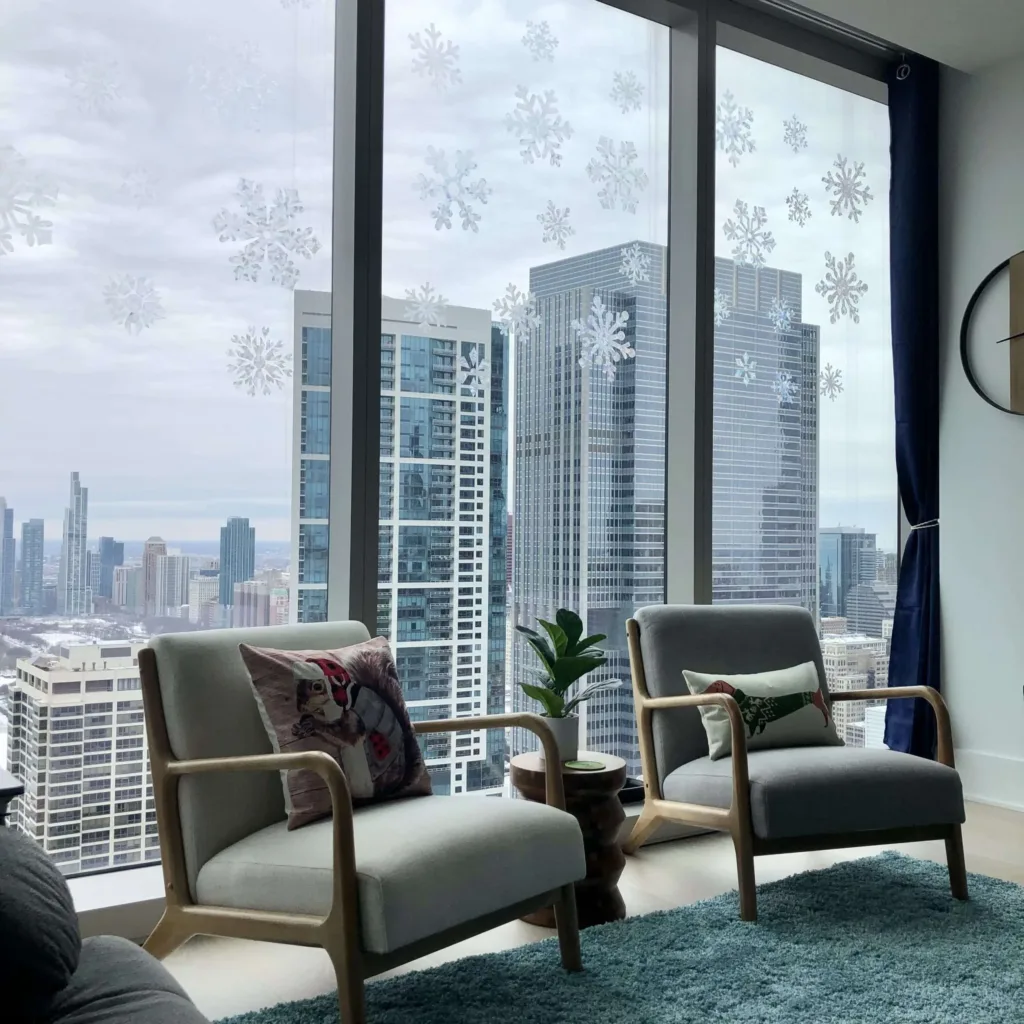 3. Festive Wreaths for Every Style:
Wreaths aren't just for the front door – they can make a stunning statement on your windows too. Choose wreaths that complement your interior decor. For a rustic touch, opt for wreaths made of twigs and pinecones. If you prefer a more classic look, consider wreaths adorned with red bows and ornaments.
4. Seasonal Silhouettes:
Get creative with silhouette cutouts that showcase holiday motifs. From reindeer to snowmen, these silhouettes can be attached to your window treatments, creating a whimsical scene when backlit. For a personalized touch, consider creating silhouettes that represent your family's unique holiday traditions.
5. Warmth and Comfort with Textile Treatments:
Enhance the coziness of your home by incorporating plush, holiday-themed textile treatments. Think about adding festive-colored curtains or drapes with subtle patterns like snowflakes or holly. Not only will these treatments keep your home warm, but they'll also infuse it with holiday spirit.
6. Adventurous Advent Calendars:
Transform your windows into a countdown to Christmas with advent calendars. Hang small festive packages or pockets from your window treatments, each holding a sweet surprise for every day leading up to the big celebration. It's a fun way to build anticipation and create a visually appealing display.
7. Window Decals and Stickers:
For a quick and easy transformation, consider window decals or stickers. These come in a variety of holiday designs, from Santa Claus to snowflakes. They adhere easily to your window panes and can be removed without leaving any residue, making them a hassle-free option for adding a touch of holiday cheer.
8. Luxurious Layers with Sheer and Velvet:
Create a sense of opulence by layering sheer curtains with rich velvet drapes. Choose holiday-inspired colors like deep reds, greens, or golds to evoke a sense of luxury. The sheer layers allow natural light to filter through during the day, while the velvet adds a touch of warmth and elegance.
9. Magical Window Display with Ornaments:
Transform your windows into a magical display by hanging festive ornaments. Suspend them at varying heights to create a cascading effect. Opt for shatterproof ornaments to ensure safety, and choose colors that complement your overall holiday decor theme.
10. Candlelit Charm:
Capture the enchanting glow of candlelight by placing battery-operated candles on your window sill. You can also hang candle lanterns from the curtain rods for a timeless and elegant look. This not only adds a touch of romance but also creates a cozy atmosphere for quiet holiday evenings.
As the holiday season approaches, let your creativity shine as brightly as the lights on your tree. At The Blind, Shade & Shutter Co., we understand the importance of creating a warm and inviting space for your loved ones. These holiday window decor ideas are just the beginning – let them spark your imagination and inspire a season of joy, laughter, and cherished moments.
May your holiday window decor be a reflection of the love and warmth that fills your home during this magical time of year. From all of us at The Blind, Shade & Shutter Co., happy decorating and happy holidays!
The Blind, Shade & Shutter Co.
[email protected]
(703) 669-2400