Roller shades are window coverings that are made to last. We have the best Roller Shades in Virginia , Hamilton. Between their extreme durability and simple upkeep, rollers are a low-maintenance, long-lasting solution for homeowners looking for easy, timeless beauty, and manageable light control options.
Choose this window treatment for its cost effectiveness, sleek and streamlined design, motorization options, energy efficiency, numerous styles, and for the ability to choose your precise lighting level – from sheer, to blackout.
Window Covering Measuring & Installations
Let our experts do the work measuring dimensions, assessing your room's lighting, making sure your purchase is perfectly customized to your home and ensuring an exact fit for your window coverings!
Window Covering Automation
Ask us about motorization services for your window treatments.
A Wide Range of Finishes and Styles
Our collection of premier window covering products features an impressive selection of colors, patterns and designer fabrics to ensure we are your premier destination for high-quality, custom window shades. One of our window covering experts can help you choose the perfect window shadings to complement any room or décor. You can choose options such as cordless lifts or shades with various opacity levels (such as sheer or blackout) to meet your unique window treatment needs. We can also provide you with motorization for your window shades, and can demonstrate this feature for you during your free, in-home consultation.

A clean, minimal design perfect for any room.
Smooth, flawless operation
Minimal light gaps
350+ fabrics/ color choices
Helps curb harsh UV rays while preserving views to the outside.
Protect your room's interiors
Smooth, flawless operation
130+ fabrics/ color choices
design studio™ roller shades
Exclusive designs and sumptuous fabrics in unique collections.
Highly curated fabrics
Designs by leading textile artists
85+ fabrics/ color choices
Adjustable, layered sheer and solid fabric bands, providing advanced light and privacy control.
A modern aesthetic
90+ fabrics/ color choices
The simplicity of a roller shade paired with an energy-efficient cellular design.
Light diffusing
Energy efficient
50+ fabrics/ color choices
An understated, elegant alternative to roller and solar screen shades.
Artfully designed
Globally sourced fabrics
70+ fabrics/ color choices
The beauty of a Roman shade — With a distinctive feature.
Elevated, modern vibe
Exclusive, textural fabrics
40+ fabrics/ colors

Bring comfort, grace and style to your home. Choose from hundreds of luxury fabrics ranging from sheer to room darkening. Enjoy more comfort and style with advanced lift technology and a host of custom options.
Wide range of light diffusion
Cordless lift system
UV protection
300+ fabrics options

A single, neat shade with the potential to completely disappear, allowing your stunning architecture – or that inspiring view – to take front stage.
A minimal look with UV efficiency
Greenguard certified fabrics ensure low emissions levels
Screen, decorative, or blackout
Cordless and automation options
529 color/ fabric choices


The Palladiom, battery-operated, Shading System redefines the beauty of daylight control. Seamlessly blend into any architectural style. Mount on or above the window frame to highlight the handsome end bracket, or tuck jamb brackets elegantly inside the frame.
Bottom rail for easy control
Designed to fit anywhere
Wire-free flexibility
Choose from a wide array of fabric options and colors
Palladiom Wire-Free Shading
The Palladiom Wire-Free Shading System offers both simple, wire-free installation and precise, automated control of daylight in our most refined aesthetic. Extend the ultimate in design flexibility to every room in every home – for both existing homes and new construction.
Ultra-efficient battery management technology
Integrate with Lutron HomeWorks system.
Minimal profile, beautifully simple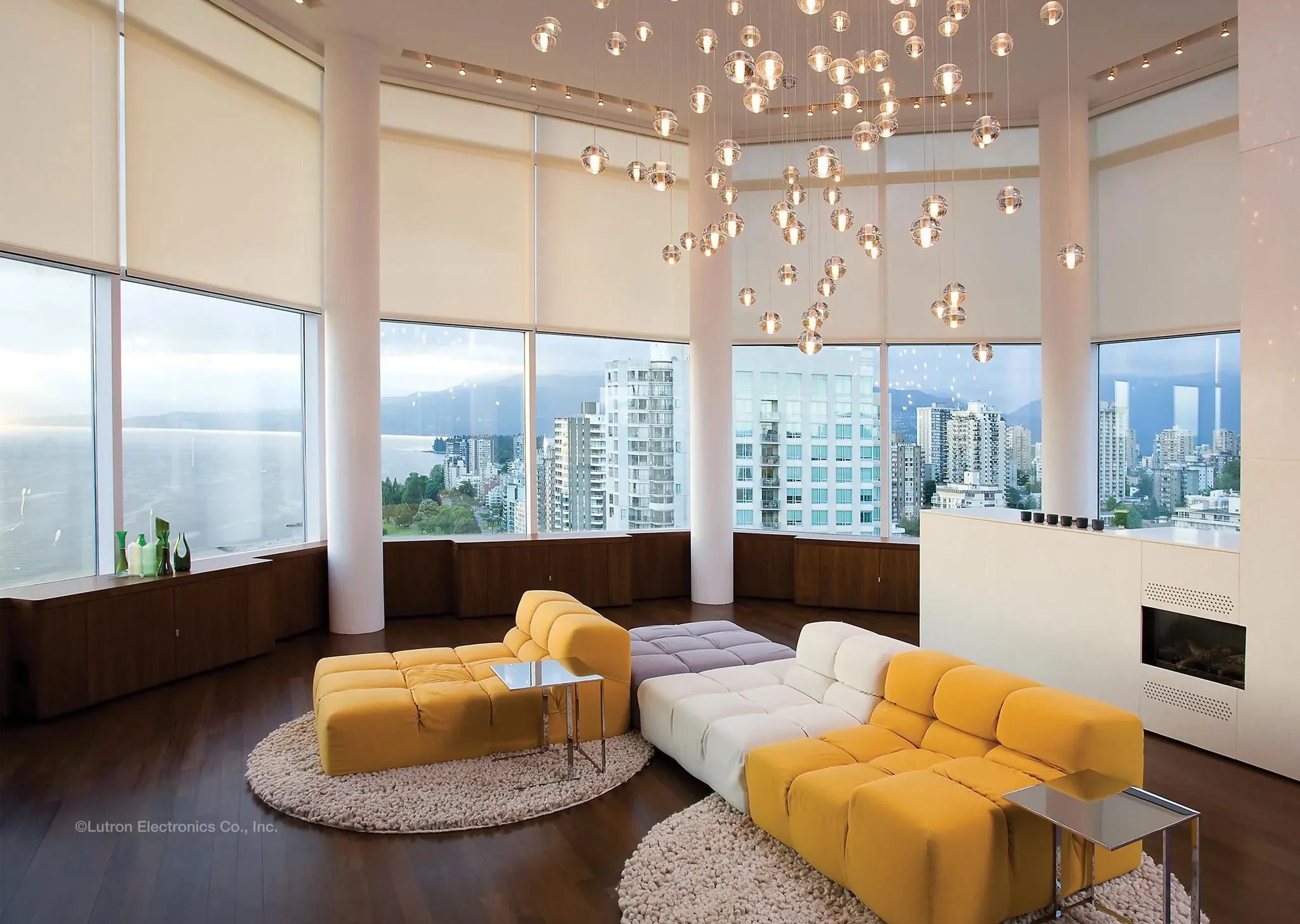 Authentic materials, hand-finished detailing, and breakthrough engineering. With the quiet, automated shade, Lutron established an entirely new category, combining groundbreaking technology, such as Intelligent Hembar Alignment, with refined style in a way only Lutron could.
Quiet, precise movement
Aesthetically pleasing, intuitive controls
Seamless integration with Lutron whole-home control systems
Triathlon Battery Powered
Find shades that add a touch of luxury and complement your personal style. Choose from our versatile and timeless collection of fabrics with hundreds of styles. Enjoy instant privacy anytime you need, any way you want, as well as refined daylight control with the Lutron app reduces harsh glare, minimizes fading, and maximizes comfort
Quiet, precise movement
Aesthetically pleasing, intuitive controls
Seamless integration with Lutron whole-home control systems