Instantly invoke an heirloom aura with luxurious, gleaming wood. Innately energy-friendly, our woods are chosen for their natural insulating properties.
Wire-brush finish, or smooth finish paints and stains
Cordless options make for a timeless look and tangle-free operation. Safety + sophistication.
Cordless and automation options
23 color choices
Natural-hued wood grains and solid colors give the look of genuine wood, but with a bundle of benefits. Moisture-resistant? Check. Durable? Check.
The look of wood + the carefree upkeep of vinyl = perfect for kitchens, bathrooms, and laundry rooms.
Woven tapes in rich solids and decorative patterns.
Cordless and automation options
30 color choices


Uniquely modern, vintage and industrial-pro all at once. Multiple collections offer alternatives from classic cost-efficiency to premium panache with heavier-duty slats, LightsOut feature and built-in valance.
Keep maintenance to a minimum with our dust-resistant finish.
Spring-tempered slats bounce back into shape, resisting those pesky kinks and dents.
Cordless and standard control options
45 color choices


The cool lines of these blinds serve up the ultimate in cost and energy efficiency with some of the most contemporary patterns around.
Textured or smooth vinyls, snappy S-Curve vanes, and fantastic fabrics.
Variety of light-filtering fabrics
Easy-to-maintain vinyl selections
132 color / fabric options


Blend the beauty and softness of a sheer, with the function and convenience of a blind.
Perfect for larger windows and doors
Maximize your privacy
Cordless and automation options
117 color/ fabric choices
Alternating sheer and opaque linear bands – modern and masterful in guiding light and protecting privacy.
Varying opacity levels depending on fabric choice.
Automation and cord control options
109 color choices


Tailored, energy-efficient, and infinitely customizable. A rich range of patterns and hues, and an opacity range from sheer to blackout.
Can fit any window shape
Repels dirt and resists stains
Cordless and automation options
555 color choices

A single, neat shade with the potential to completely disappear, allowing your stunning architecture – or that inspiring view – to take front stage.
A minimal look with UV efficiency
Greenguard certified fabrics ensure low emissions levels
Screen, decorative, or blackout
Cordless and automation options
529 color/ fabric choices


Both elegant and exotic. Organic fibers from jute to rattan and bamboo to woo bring global texture and international style right to your very own zip code.
Enduring quality
Hand-fed on loom by skilled artisans
Sewn-edge binding choices
Woven woods, grass weaves, or select weaves
Automation and cord control options
66 color/ fabrics choices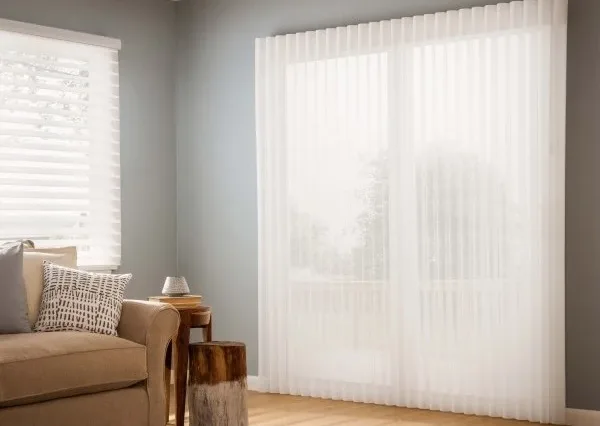 Scale it up with 3 ½" vertical vanes. The look of soft drapes with the adjustability of blinds.
Complement your horizontal windows by coordinating them with vertical sliding glass doors. Style 101.
Rotate the vanes to maximize the view or minimize the light.
Guard against UV damage. Your furniture and floors will thank you.